5 Tools to Improve Your Academic Writing Skills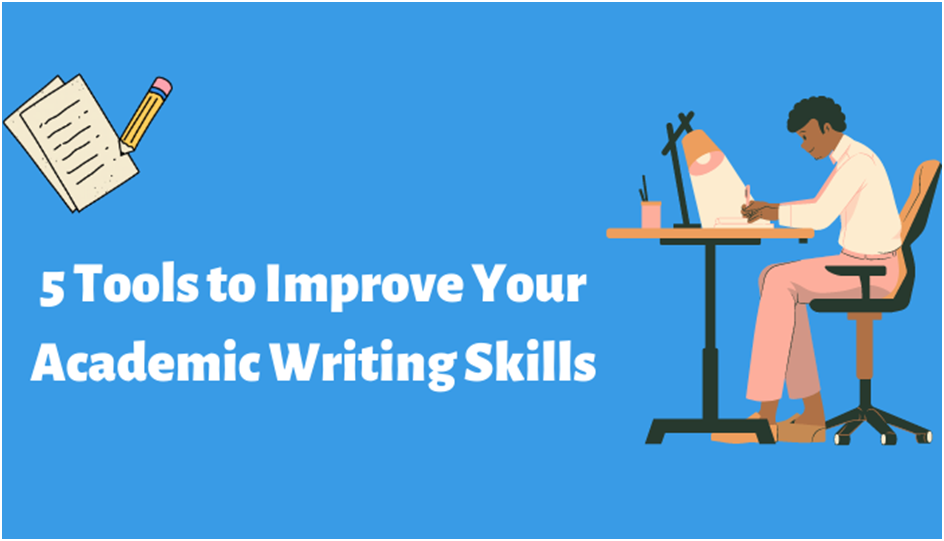 Improving academic writing skills is necessary and important, but it is not very easy to do on your own. You have to get help, and help's easy to find when it comes to the internet.
In this post, we will be taking a look at five different online tools that you can use to enhance your academic writing skills. We will look at each tool in detail by discussing its features, functionality, pros, and cons and also by telling how exactly it can play a part in improving writing skills.
Let's get started.
1.     Grammarly
If you're into writing, you've probably heard of Grammarly at some point or the other.
Grammarly is a popular premium grammar checker that can be used to find and fix grammatical errors in a write-up. The platform is free to start (with a premium plan available with more advanced features). Grammarly is available as an online tool, as a Chrome extension, Windows extension, as well as an Android and iOS application.
Before we talk more about the tool itself, let's discuss how it can actually help in improving academic writing skills.
Grammarly can be a good tool for enhancing academic writing skills because it provides explanations and reasons for the errors that it points out. If you want to learn more about a particular error, it will even give you examples of what the correct form looks like. Here is what it looks like: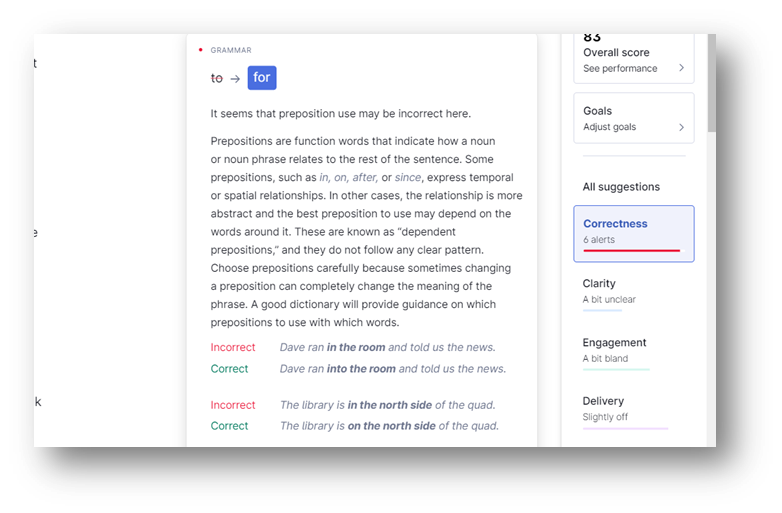 When you find an error in your content, you can open the explanation and learn more about it so that you can avoid making it in the future. In the screenshot above, you can see how the tool gave the full explanation about prepositions as well as some examples showing incorrect and correct uses.
Pros
Free to start
Accurately finds errors and gives explanations
Supports file uploads and downloads
Maintains original formatting of uploaded files
Has an in-built text editor with necessary formatting options
Also gives recommendations for Engagement, Clarity, and Delivery
Cons
Requires you to purchase premium plan for full access
Pricing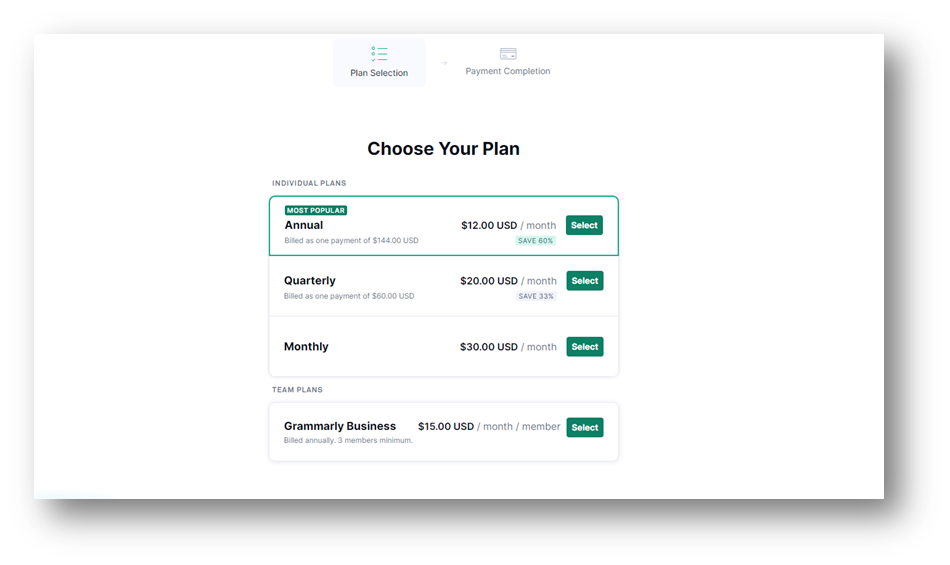 Paraphraser.io is a popular online paraphrasing tool that you can use for improving your academic writing skills. Unlike some other tools, Paraphraser.io works on advanced AI, which enables it to provide human-like results. You can check it out in the screenshot below:

Like the tool above, let's actually discuss how Paraphraser.io can help in improving your writing skills before we start looking at the features.
Paraphrasing tools have a certain infamy attached to them, which is largely due to the unscrupulous purposes for which they can be potentially used. But they can also help students improve their skills in a purely clean and ethical way.
Firstly, with Paraphraser.io, you can vastly improve your vocabulary. You can take bits of pre-written text and run them through the tool. You will be able to learn new words by looking at the synonyms that the tool will add to the original text. Another benefit of learning words this way is that you can automatically learn their correct contextual application as well.
Here is an example:

In this example, you can see how the tool replaced the word 'obsequious' with 'flattering'. In this context, they both have the same meaning.
Other than vocabulary building, paraphrasing tools can also help you improve your sentence formation. You can enter your content in the tool and then see how it changes the problematic phrases. By 'problematic', we mean phrases that don't flow very well and lack fluency.
Let's demonstrate this with an example here:

Technically, the input text that we provided to the tool was grammatically correct. But the paraphrasing tool shortened it considerably and made it flow better. The long phrase i.e., "the old man with grey hair" was simply replaced with "the grizzled man".
Now that we're done looking at how this tool can help you in improving your writing skills, let's take a little gander at its features before moving on.
One of the best features that you can enjoy with Paraphraser.io is its smart, human-like functionality. If you choose the right mode, the tool makes remarkable changes to the content.
There are a total of four modes that you can use with Paraphraser.io. They are as follows:
Fluency
Standard
Creative
Smart
Of these four, Creative and Smart are for paid users only. And, honestly, considering that you can snag a package for just $7, it's worth becoming a paid user.
As a free user, you can paraphrase up to 600 words in a single go, which is increased to 1,500 if you buy the paid plan. Compared to other tools of the same quality, the 600-word limit is pretty good.
Pros
Excellent human-like results
Allows 600 words for free users
No compulsory signing up
Supports file uploads and downloads
Affordable plans
Cons
The best modes are only available in the paid version
Pricing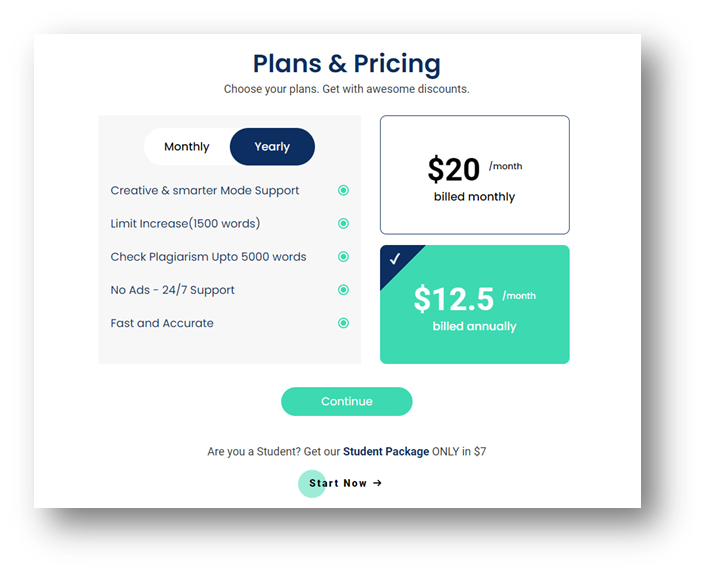 Before you get skeptical about how a plagiarism checker can help in improving academic writing skills – hear us out.
One of the main skills that an academic writer needs to necessarily possess is to maintain uniqueness in their work as well as properly cite the other studies/authors they quote therein.
In order to improve this skill i.e., of maintaining readability and citing sources properly, it is necessary for one to understand how much plagiarism their work usually contains. Similarly, it is also necessary for one to have such a tool at their disposal that can enable them to find out the URLs of the sources that they may have accidentally plagiarized while coming up with their paper.
This is where Check-Plagiarism comes in. This tool allows its user to easily spot plagiarism in their text, even if it is just one sentence. Furthermore, this tool also provides the URLs of any source that it may find during the checking process.

Now that we've made the link between plagiarism checkers and academic writing skills, let's move on to actually look at some of the features that you can enjoy with this particular one.
For starters, Check-Plagiarism has a very large and generous input limit for even its free users. Normally, free plagiarism checkers set the limit at around 1,000 words, but with Check-Plagiarism, you can enter 2,000 words without any trouble. Mind you, if you want to increase this number, you can always buy a paid plan.
Moving on, the checking process of this tool is also pretty accurate. You won't have to worry about whole chunks of plagiarized text going unignored. There are a number of other useful features that this tool provides, such as:
File uploads
"Exclude URL" feature
Multiple languages support
Report downloads
You can use Check-Plagiarism without signing up if you want. But, with all the ads, it's recommended to upgrade to the paid plan if you can.
Pros
Accurate checking process
Free limit of 2,000 words
Multiple languages supported
Downloadable reports
Cons
Pricing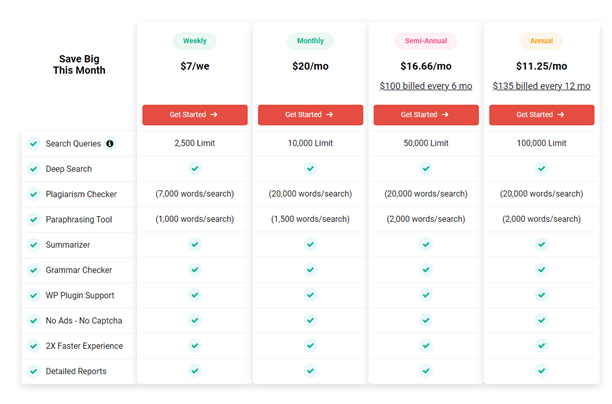 4.     Hemingway
Just as maintaining uniqueness and grammatical perfection is necessary for an academic paper, the same goes for readability. While there is a bit of leeway for using some complicated words in academic content, it is not a license for employing arcane terminology with abandon. Yes, exactly like this.
To keep your content readable, you can use Hemingway. Hemingway is quite a popular and "household" term when it comes to the writing industry. This tool is basically designed to spot readability issues in your content. On top of pointing out the various issues, it also gives the content a grade on a scale of '1' to 'post-graduate'.
Let's do a quick demo with the Hemingway tool to show you how it works: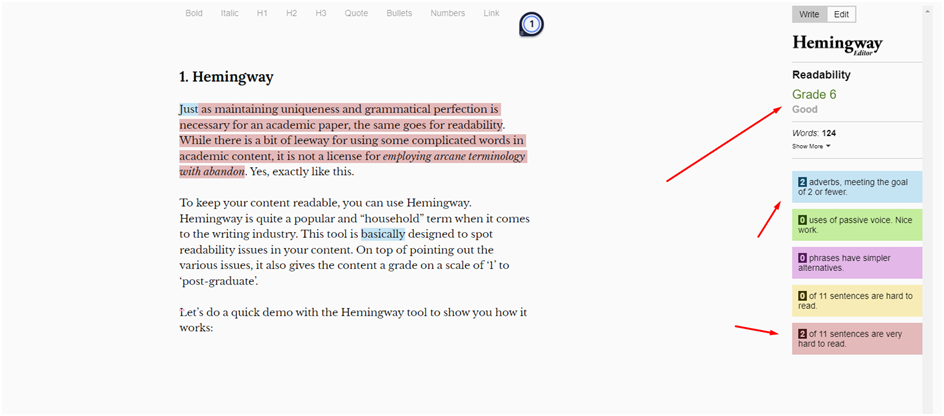 In this screenshot, you can see that the tool pointed out two main issues in the entered content. First of all, the two sentences were hard to read…very hard to read. The tool highlighted them in red. Then, the adverbs were also pointed out since using a lot of adverbs can make your content hard to follow.
Other than these two issues, you can also see how the tool gave the content a readability grade of 6.
Hemingway does more than just point the issues out. It also gives the correct suggestions that you can apply to remove the problems and make your content better to read.
Pros
Accurate checking process
Free limit of 2,000 words
Multiple languages supported
Downloadable reports
Cons
Annoying ads in the free plan
Pricing
Hemingway has a downloadable app that costs $19.99. Other than that, it's free.
5.     Microsoft Editor
Microsoft Editor is a good online tool for improving content quality, and it can be highly helpful if you are looking to improve your academic writing skills. Microsoft Editor can be used as an Edge or Chrome extension. As per the tool itself, it can help you with the spelling, grammar, refinements, and tone of your content.
Here is an example of how it works: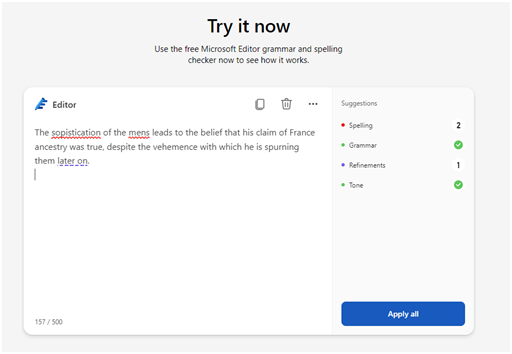 As you can see in the image above, the Editor pointed out some of the issues in the content and highlighted them in red and blue. We say 'some' because it ignored some of the other grammar errors.
Then again, we're not advising you to use this tool on your actual content i.e., as part of the 'optimization' phase. Rather, you can use it merely as a learning exercise to see how you can improve your grammar, spelling, and writing tones.
Pros
Free to use
Can be used as a browser extension
Points out grammar and spelling errors as well as tone adjustment issues
Cons
Can miss some errors (as shown in the image above)
Pricing
Completely free.
Conclusion
And that's pretty much it.
Before we end this post, we want to do a quick recap to show you how each of the tools mentioned above can play a direct role in improving your academic writing skills:
| | | |
| --- | --- | --- |
| Name of Tool | Availability | Helps in |
| Grammarly | Free + Paid | Improving understanding of grammar rules and spelling, as well as writing fluency and delivery |
| Paraphraser.io | Free + Paid | Learning new words as well as ways to form sentences |
| Check-Plagiarism | Free + Paid | Finding out plagiarized parts in the content for easy citations and improving the ability to maintain uniqueness |
| Hemingway | Free + Paid | Understanding and fixing readability issues |
| Microsoft Editor | Free | Fixing grammar and spelling issues as well as errors in tone and delivery |