Copa America
The Copa America (Spanish for 'America Cup') is the main national football competition in America. It is run by CONMEBOL, the South American football confederation.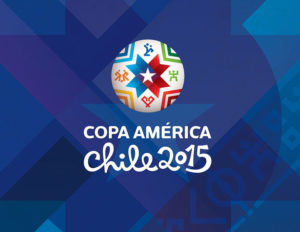 Overview
The participating nations are Argentina, Brazil, Bolivia, Chile, Colombia, Ecuador, Paraguay, Peru, Uruguay and Venezuela. Two invited teams from other confederations complete the 12-team line-up. As CONMEBOL only has the 10 members mentioned above, there is no qualification tournament, neither is there a qualification tournament for invitees; they are invited on the basis of their merits, such as by winning matches in World Cup finals or from qualification stages in their confederations. Mexico and USA are the two invitees for the 2007 cup.
History
The Copa America is the oldest surviving international football competition in the world. It was held for the first time between July 2 and July 17, 1916 as part of the commemorations of Argentina's independence centenary. It is normally held every two years, but CONMEBOL has now decided that it would henceforth be held every four years.
The tournament was previously known as Campeonato Sudamericano de Selecciones (South American Championship of National Teams). The current name has been used since 1975. Between 1975 and 1983 it had no host nation, and was held in a home-away fashion. In 1984, the CONMEBOL adopted the policy of rotating the right to host the Copa America amongst the ten member confederations. The first rotation was completed in 2007, when the competition took place in Venezuela.
While the Chile National Football Team is the current champion (Copa America 2015)  the most successful team is Uruguay. They have so far won the championship 15 times. Argentina has won 14 championships. The next Copa America will be held in Brazil in 2019.