Qinghai Tibet Railway | World's Highest
The Qinghai-Tibet railway is the world's highest railway. The line boasts high-tech engineering to stabilise tracks over permafrost and oxygen pumped into cabins to help passengers cope with the high altitude.
China says the 1,140km (710-mile) line is an engineering marvel and will bring major opportunities to a poor region. Critics say it will speed up the destruction of Tibetan culture.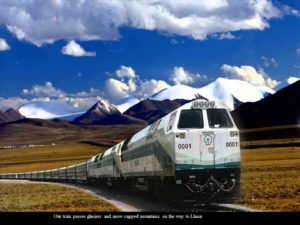 No matter what, the rail line is a monumental undertaking. Over the last four years, 35,000 workers have laid down track in bitter cold and at high altitude. The project cost $4.2 billion.
Risky for Workers and Passengers
Never before has a railroad been built at such high altitudes and on such difficult terrain. Almost the entire route lies over 4,000 meters (13,100 feet) high — at its highest point, it is 5,072 meters (16,640 feet) above sea level. The highest station on the stretch — there are 29 in total — rests 4500 meters (14,764 feet) in the town of Nagqu. Almost half of the route travels across permafrost.
The thin air puts not only rail workers at risk, but also future passengers. The solution? Much like the cabins of passenger jets, the Canadian-made train cars will be pressurized to protect guests from potentially fatal altitude sickness. Doctors will also be on board each of the eight daily commuter trains to attend to the sick.